It would come as no surprise to learn that the creative director behind one of Australia's hippest fashion labels has put together an amazingly stylish vacation getaway. What you might not know is that she's Ronnie Blakey's wife, Jamie.  Jamie's brand, One Teaspoon, is stocked in 32 countries worldwide, has 208,000 Instagram followers and is loved and worn by everyone from Fergie to Beyoncé, who has rocked several pairs of One Teaspoon's iconic Hendrix Rollers denim shorts.
Together, the Blakey's restored a 110 year old cottage in Yamba Village, New South Wales. Dubbed 'The Black Ace", the 180 degree facelift included sleek, modern furnishings, a billiard and bunk house, several outdoor dining and lounge areas, and an exterior wall providing privacy and cohesive backdrop for the compound. In Jamie's write up of the home on AirBnB, she notes "The Black Ace is for people that are serious about relaxing, good times & entertaining".
The home sleeps 16 and can be rented for about $200 a day. Jamie's description of the house: "The grounds are fully fenced with a giant deck joining the main house to the games room. The oversized outdoor furniture & layout makes for easy outdoor living.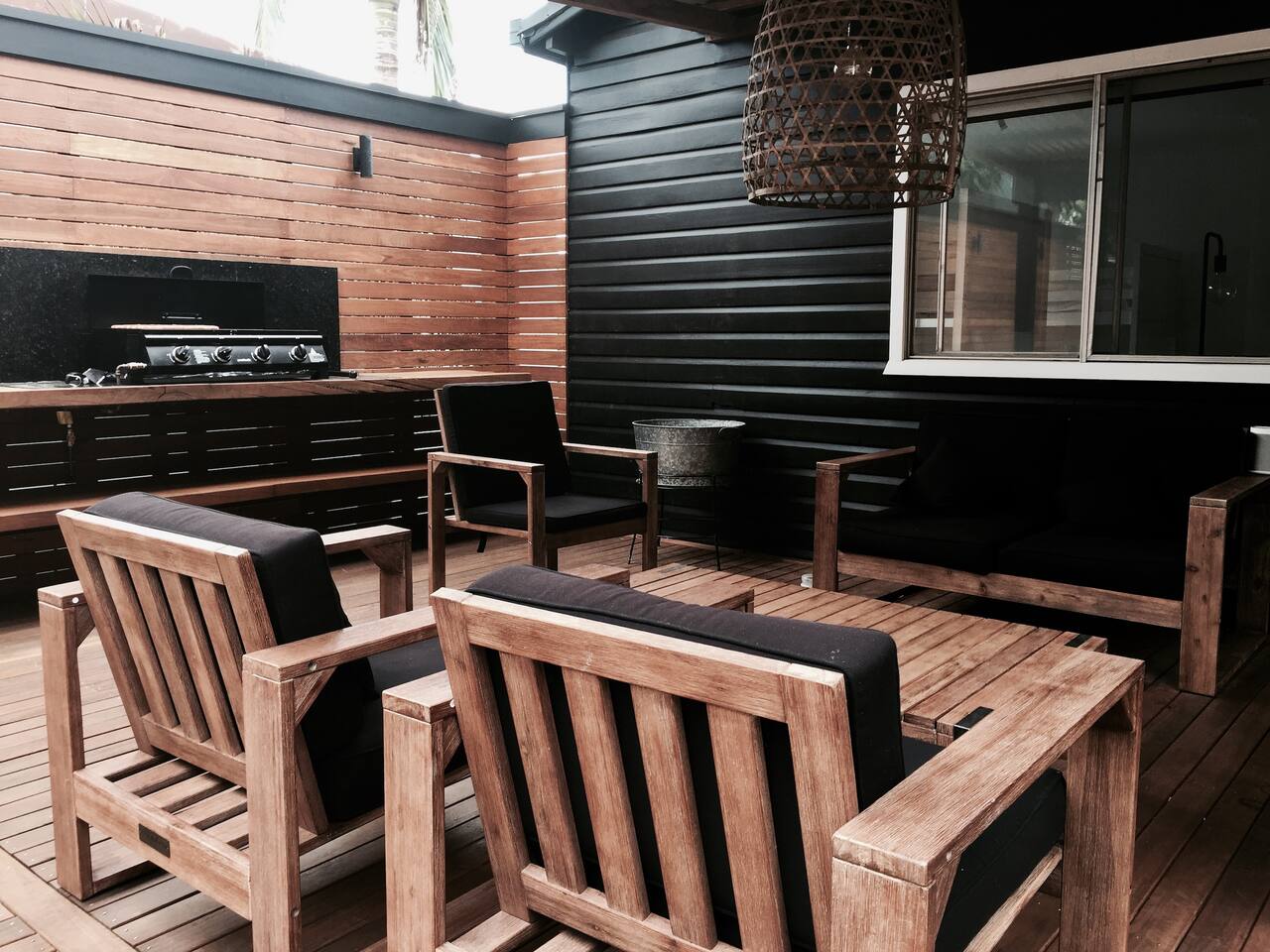 The considered curation and lightness of the interior in the main house keeps the mind clear & clutter free, the games room has a pool table that converts to a ping pong table, a dartboard, 55" TV with Apple TV, Netflix, DTV, surfboard racks, skateboard racks, plenty of storage & 2 sets of bunks with trundles sleeping 6.
The main house has 2 x queen size bedrooms with underbed storage and overhead fans & 1 supersize bedroom with 2 x Double/single bunks, a TV with Apple TV, Netflix, DTV, DVD & beanbags with an overhead fan.
The Main Living area has 3 hang spaces, the dining area seating 8 people, kitchen bench seating 3, the fireplace featuring hand painted Mexican tiles, a leather lounge and butterfly chairs. Then there's the TV area which features a 55" TV with Apple TV, Netflix, DTV.
The kitchen is fully stocked with plenty of plates, cutlery, a Nespresso machine, pots, pans, blender, gas oven/stove, water filter, huge fridge/freezer, basically everything you need.
The location is the real deal – next door to the local & original cinema, (of which soft sounds can be heard at times) the amazing beaches, great cafes, parks, the Iconic 'Pacific Hotel', the skate park, bowling, mini golf & indoor rock climbing.
You can see the full listing here: AirBnB_The Black Ace